July 9 – July 29, 2023
Residential move-in date: July 9
Move-out date: July 29
Applications for summer 2023 are now closed.
The Experimental Physics Research Academy focuses on current physics, specifically mechanics, electromagnetism, quantum dynamics, and astrophysics. Through lectures, activities, projects, and discussions with their instructors, students move past memorized equations to gain an understanding of cause and effect, and ultimately an appreciation of physics on a higher level. The Experimental Physics Research Academy is fully residential with no commuter or online options.
If you attend a School District of Philadelphia public or charter high school, you may be eligible to attend a Penn Summer Academy free of charge with a Penn Summer Scholarship.
Video
If you have a problem viewing this video, you can watch it on YouTube.
Features
Lectures and discussions: Students receive a guided tour of physics, starting with kinematics and building through electricity and nuclear physics to modern physics and quantum mechanics. Additional class time is devoted to the philosophy of science; experimental design; choosing education paths; and the ethics of science. 
Broader Penn research: Each week there are several research talks given by Penn faculty members about their fields of specialization and active research, which include question-and-answer sessions with our students.
To learn more about the Experimental Physics Research Academy, visit our instructor's website which includes recent projects, feedback from students, and curriculum details.
Prerequisite: Previous physics experience is encouraged, though not required.
Faculty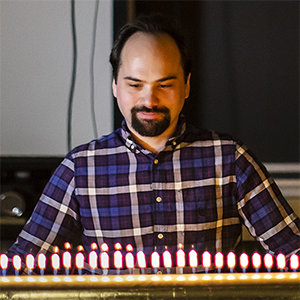 Program Director: Peter Harnish
Peter Harnish is the Undergraduate Lab Manager for the Department of Physics and Astronomy, where he designs and runs the first- and second-year physics labs. While his physics experience includes theoretical graphene research and experimental quantum optics, his vocation has always been toward teaching, both collegiately and through museum education and Scouting programs.