July 9 – July 29, 2023
Residential move-in date: July 9
Move-out date: July 29
Applications for summer 2023 are now closed.
Penn Chemistry is a leading center for molecular research and instruction, whose researchers are at the frontier of modern chemistry, tackling a wide variety of important societal challenges. The Chemistry Research Academy provides students with the foundational knowledge to understand this cutting-edge research, while providing opportunities to hear and learn directly from several of the research professors and students. The Chemistry Research Academy is fully residential with no commuter or online options.

Specific topics included in the Academy will be derived from departmental research goals. Below is a list of typical topics. Scroll to the Features section for more information.
Hands-on laboratory experience (~50% of class time)

Analytical techniques like spectroscopy and gas chromatography
Optimization of synthetic methods using experimentation
Open-ended laboratory challenges

Research lectures (topics will vary)

Introduction to nanoscale materials
Chemical protein modification to study disease
Chemistry of the rare earth metals
Applications of coordination complexes

Classroom learning

Chemical bonding principles in organic and coordination chemistry
Analytical techniques – why and how they work
Materials science fundamentals and applications

Tours (tour availability will vary)

Science History Institute
Singh Center for Nanomaterials
Department research labs

Skills for independent research

Finding, using, and understanding research articles
Capstone project including steps to begin an independent research project
Download: 2022 Syllabus (PDF)
If you attend a School District of Philadelphia public or charter high school, you may be eligible to attend a Penn Summer Academy free of charge with a Penn Summer Scholarship.
Features
Prerequisite: The Chemistry Research Academy builds on the foundational topics typically learned in a first-year chemistry course. Students should have completed at least one year of high school chemistry before participating in this program.
Meeting times: Monday – Friday. 6 instructional hours and a 1-hour lunch break each day. Homework will vary based on the day's activities and will average no more than 1 hour/night of formal work.
Research: This is an instructional program where students build research skills and meet professors and students who are active in a broad range of chemistry-related research. The program does not involve placement into a research group.
In the lab: Approximately half of the instructional time involves students working in the chemistry lab. Here, students will learn about different types of chemical instrumentation while testing out their research skills using open-ended lab investigations. Collaboration and peer review activities allow students to deepen their understanding and skills throughout the program.
In the classroom: When not working in the lab, students will be engaged in learning via
Topic lessons and interactive activities
Large- and small-group discussions
Presentations to peers
Research lectures by professors or students
Journal Clubs with research students
Tours of research labs and spaces
Capstone project: Throughout the academy, students will be guided through a process to choose and plan their own independent research project using Penn's extensive online resources. They will leave with a plan they can use for entering a science fair or for meeting their high school's independent research requirements.
Faculty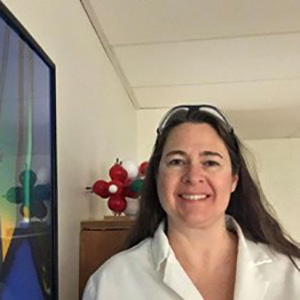 Program Director: Dusty Carroll
Ms. Carroll earned her Master of Science in Chemistry Education at the University of Pennsylvania in 2005. She later became an instructor in the same program, teaching Molecular Spectroscopy for four years. Ms. Carroll assisted Dr. Susan Phillips in creating and designing the Chemistry Research Academy in 2013 and has been with the program ever since. During the academic year, Ms. Carroll teaches AP Chemistry and Engineering and advises the STEM Competition Club at Seneca High School in New Jersey.